Ionizer Products


Customer Comments


Common Questions


Ordering info


Secure purchase


Contact Us


SiteMap


Search


Home


Back
Tabletop air purifiers generate refreshing, healthy negative ions.
Several to choose from for every need.
Buy two or more online and save 10%.
All our negative ionizers
come with one free ion detector per order.


Product Brochure


Negative Ion Generators
Ionizing Air Purifiers
The Happy Machine™




Model IG-133A
Only $164.95
(less if buying more than one)
Works in Both humid and dry locations.
Ozone-Free.
Occupies only a 5" x 5" area on a
tabletop or bedroom nightstand.
Now available in either Black or Bone


Superior quality, long-lasting, highly effective, reliable, genuine negative room ionizers. Generates an optimum level of high-density negative ions.


Very effectively removes particles from the air as small as .01 microns, such as pollen, dust, mold spores, pet dander, and other allergens.


Negative ion output 80 to 100 trillion ions per second, externally. (That is, out into your room, instead of being captured and trapped inside the ionizer).


For large or small rooms - covers 4000 cubic feet
(a 20' W x 20' L x 10' H room).


Ionization method requires no filter, so there's never a need to buy or clean filters.


Neither are noisy fans or blowers required. Room air is cleaned and purified noiselessly- completely silent.


More effective than expensive HEPA filters or electronic air cleaners: ionized room air does not have to be circulated by a fan and pass through a filter to be cleaned.


Uses no chemicals, perfumes, filters, or agents.


Does not produce harmful EMF (electromagnetic fields).
---
O U R B E S T - S E L L I N G I O N I Z E R

The "Happy Machine"™ Plus:
Ionizer and DustGrabber™
All-In-One combination unit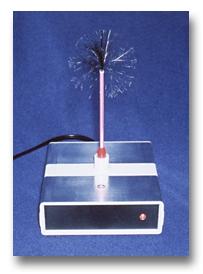 Works in both Humid and Dry locations.
Ozone-Free.
Model IG-133DG
Click here for more info

This unit is also available with Ceiling/Wall mounting option (IG-133DGB); Mounts with two customer-supplied screws)
---


Model IG-133
$149.95
Our Original Ionizer
(Please select another model
if your room humidity is low
in any part of the year.)

Ideal for use with the DustGrabberTM
in any humidity.

---
The DustGrabber™ greatly enhances the air cleaning effectiveness of a nearby negative ion generator even more.

The DustGrabber™ helps trap airborne allergy-causing particles such as dust mites, pollen, and mold spores.

Available only from Comtech Research. There's nothing like it.


DC-2 DustGrabber
Click here for more information
about the DustGrabber™

---

Several models to choose from.
See them on our Order Page starting at only $149.95 or less.

10% Quantity Discount when purchasing at least two room ionizers online, or if your online order total comes to at least $220.00 before shipping.
---
SUPERIOR NEGATIVE ION GENERATORS ...
These ionizers produce an optimum level of negative ions in your room.
We've seen other ionizers that we couldn't even measure the negative ion output from (though we could walk outside and measure the natural level of negative ions outdoors with the same ion detector). Another widely advertised ionizer produced such an extreme level of negative ions that it actually caused a computer in the same room to malfunction.
Our ionizers are Designed to Last for years.
We still have the first ionizers we ever built. And they still put out the same level of negative ions as they did when they were new.
Running 24/7, average electricity cost is only about 4 cents a month.
SUPERIOR ION EMITTERS:
The part that wears out quickly on other negative ion generators.
The one part that wears down on ALL negative ion generators (the ion emitter) is not only replaceable, but long lasting.

Standard SSE long-life, plug-in negative ion emitters are reliable, replaceable, inexpensive, and user-renewable.

Our optional* long-life CFE ion emitters are made from a high-tech, space-age material that is virtually maintenance-free. The CFE emitter requires no trimming, since the diameter of the fibers is almost microscopically small (only 0.8 microns). And dusting off the emitter is only needed 2 or 3 times a year.

The CFE simply plugs into ionizer in place of the standard SSE emitter as shown below.

Click image above
for larger view
*INCLUDED with the IG-133DG.
---
Other air purification products, which are better if you have an odor problem, but produce less negative ions externally:

Let Us Help You Choose The Right Air Purifier.
---

All IG-series room ionizers on this site are manufactured by us in our Missouri, USA facility.