This model (the IG-133DG), shown below, is a combination of all the features of our IG-133A room ionizer and all the features of our DustGrabber™ in one compact unit. This is what you will get: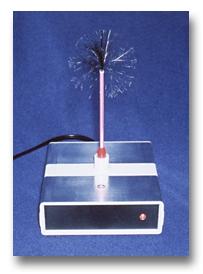 (Free ion detector also included)
Price: $204.95


---
Both of the units being operated below are
COMBINED into this combo unit IG-133DG.


(both are available separately)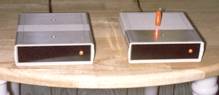 Model IG-133A ionizer (above right)
Model DC-2 DustGrabber (above, left)
Uses less table space than the two models shown above.
Only $204.95.
Includes the long-life CFE-2 negative ion emitter at no extra charge.

Built-in DustGrabber™

Completely quiet and very efficient.

Produces approx. 100 trillion high-density negative ions per second.

Only 5" wide x 5.25" deep x 8" high
Produces NO ozone, harmful positive ions, or EMF radiation.
Running 24/7, average electricity cost is only about 4 cents a month.
It really works. There's nothing like it available.

Designed to last for years.
We still have the first ionizers we ever built, and they still put out the same level of negative ions as they did when they were first built.

Superior negative ion generators.
Our ionizers produce an optimum level of negative ions in your room. We've seen other ionizers that we couldn't even measure the negative ion output from (though we could walk outside and measure the natural level of negative ions outdoors with the same ion detector). Another widely advertised ionizer produced such an extreme level of negative ions that it actually caused a computer in the same room to malfunction.

With Superior replaceable ion emitter.
The one part that wears out on ALL negative ion generators (the ion emitter) is replaceable. The part that wears out quickly on other negative ion generators, rendering it ineffective.
Standard long-life, plug-in negative ion emitters are reliable and replaceable.
All ion emitters are subject to wear. When they are new, a good emitter should have a very sharp point (or edge) as viewed under a microscope. This sharp point is a must to provide the highest efficiency ion output. However, when most ion emitters are examined under a low-power microscope (or high-power magnifier) after a few weeks of operation, they clearly show wear: the sharp point has become rounded and worn-looking.
The long-life CFE ion emitter used in this model is made from a high-tech, space-age material that is virtually maintenance-free. The CFE emitter requires no trimming, since the diameter of the graphite/carbon fibers is almost microscopically small (only 0.8 microns).
The CFE simply plugs into the ionizer as shown.

Orders placed before 2:00 PM CST usually ship the same day.
Comes with a free IDN-1
ion detector per order.