Advanced search

Ionizer Products


FAQ


Ordering info


Secure purchase


Contact Us


Site Map


Search


Home


Back
Significantly increases the effectiveness of a negative ionizer for air purification and removal of pollen, dust, mold, pet dander, etc. from the air.

Unique type of electrical field near the unit silently attracts more airborne particles of other particulates and allergens without generating undesirable positive ions or harmful EMF.

Helps reduce or eliminate the accumulation of dust and dirt on nearby objects or surfaces.

Does not reduce the level of negative ions in the air.

No filters to buy - ever. Just wipe clean occasionally.

Long-lasting, highly effective, reliable, quality designed and built.


DustGrabber™
Room Electrostatic
Dust Precipitator
For use with
any of our
negative ion
generators
EXCEPT the
IG-133DG

Also helps prevent dust, mold, pollen, and other allergens from accumulating on the table or other nearby surfaces when an ionizer is in use in a dusty or polluted environment.
Produces NO ozone.
Neither a positive ion generator nor a negative ion generator.
Power requirements: 120 Volts AC, 60 Hz, 1 Watt.
Only 5" wide x 5.25" deep x 1.6" high

$139.95 each
DISCOUNT:
Only $125.95 when purchased online with any room ionizer.
"DustGrabber" is a trademark of Comtech Research.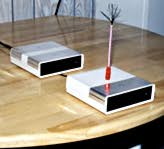 It must be used near a high-density negative ion generator such as our model IG-133 ionizer for the DustGrabber to be effective in attracting dust, pollen, mold, etc.
We once sent a DustGrabber to someone, and they complained that it wasn't attracting dust. But their ionizer was on a different floor in their house. However, when they brought their ionizer down next to the DustGrabber, "what a difference!", they said. There was stuff on the DustGrabber that he had no idea what it was--stuff he might have breathed in.
Developed and manufactured in USA by Comtech Research, the Iontronics™ DustGrabber™ has been on the market and tested since 1999.

It really works. There's nothing like it available.

See also our combination ionizer - a negative ion generator AND a DustGrabber™ in one compact unit.
Model IG-133DG