Book About Negative Ions
The Ion Miracle
Only $9.95
The Benefits of Negative Ions on
Physical and Mental Well-being.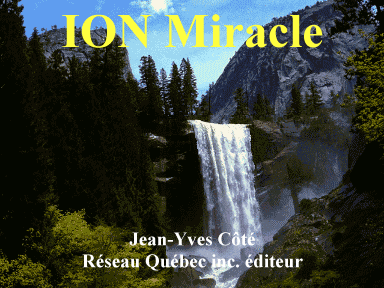 Based on sound scientific studies about negative ions, The Ion Miracle is a very easy-to-read book that explains to ordinary people what negative air ions do in life for humans, plants and animals.

An outstanding and accurate book on the subject of negative and positive air ions. Superior to Fred Soyka's book, The Ion Effect (now out of print).

Click here to see the author's bibliography page, which shows all 212 scientific references upon which the information in the book is based.
TABLE OF CONTENTS
Fred Soyka's Experience
Winds that kill
Sanctuaries of life
Research and experiments
Our modern environment: a pos-ion generator
Ionization to improve our health and well-being: What To Do
| | |
| --- | --- |
| Front cover of book | Back cover of book |
| | |
"Convinced of the importance of the subject but unable to find available material about it, I decided to write this book, which both summarizes the literature about and documents personal experiences of the effects of negative ions." - Author, Jean-Yves Côté
New low price: Only $9.95

Paperback - 92 pages - © 1999