Advanced search

Negative ions info


Secure purchase


Ordering info


Contact Us


Ozone FAQ


Warranty


Site Map


Search


Home


Back
"The next morning, I awoke for the first time I can ever remember with nasal passages clear enough to breath through my nose!"
L. Lanning, Ohio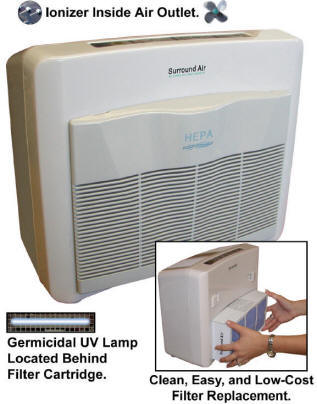 Negative Ionizer - HEPA Filter - UVC Light
Silver compound Anti-Bacterial Pre-Filter
Selectable Ozone - Activated Carbon filter
Multi-TechTM Combines the Top 5
Technologies into One Air Purifier.
An Air Purification Technology for Every Air Pollutant, because different technologies are much better than others at removing different pollutants.

Low Cost of Ownership.
Most air filters cost more in replacement parts in 6-12 months than Multi-Tech replacement filters and germicidal UV lamp cost in a 3-year period. Also, unlike most air filters, which cost up to a couple hundred dollars or so a year in energy consumption, the XJ-3000C costs just a few dollars a month in electricity to operate. Quiet yet powerful fan. Low sound, even on the high setting.
Effectively circulates negative ions throughout an entire room (up to 500 sq. ft.), while drawing high volumes of particulates through the filter.

No Maintenance
No cleaning is required, just clean and simple filter and UV lamp replacement*.
WARRANTY:
THREE YEAR Manufacturer's Warranty.
90-day replacement policy. If any part requires repair during the first 90 days, due to manufacturer defect, the manufacturer will replace it with a new one.
Download
Color PDF
Brochure



(1.7 MB)

How Each of the Multi-Tech
Air Purification Methods
Complement One Another.
Air Ionizer
Negative ions effectively remove particulate from the air, such as bacteria, mold, dust, and other allergens. Ionization also removes ultra-fine particles that a filter cannot capture such as smoke, viruses, and chemical fumes.

Negative ions increase the effectiveness of the HEPA and activated carbon filter system by causing particles to magnetically attract together, resulting in larger particles that are easier for the filter to capture.

Disinfects viruses and bacteria trapped in the filtration bank of the Multi-Tech XJ-3000C that would normally reproduce in the typical filter.

Circulates air-cleaning negative ions throughout the a room, beyond the coverage area of a filter. The Multi-Tech's fan results in better distribution of the air ions.
HEPA Air Filter
Removes 99.97% of particles (at .3 microns in size) that pass through the filter, preventing them from recirculating into the air. Largely considered the most effective type of air filter for solid particles, such as allergens.

Captures a high volume of floating dust and other particles, including many of the ionized particles that would otherwise just settle to the ground if a typical ionizer were used.
Germicidal UV Light
Destroys micro-organisms. UV-C (ultraviolet) light is scientifically proven to destroy a large variety of microbial contaminates, such as viruses, germs, bacteria and fungi (including mold).

Reduces illness & disease. Ultraviolet light air purification has been used for years by the medical field (including hospitals) to sanitize rooms and equipment, in order to prevent the spread of illness and disease.

Recommended by Centers for Disease Control for its ability to destroy biological pollutants.
Activated Carbon
Air Filter
Specializes in capturing and neutralizing chemicals, gases, odors and cigarette smoke, which the HEPA filter cannot capture.
Selectable Ozone,
For Stronger Odors
Powerful odor eliminator that is much more effective than other methods.

Powerful disinfectant at close range, making it an effective filter sanitizer, preventing microbes trapped in the air filter from reproducing.

In the Surround Air XJ-3000C, the ozone can be completely disabled if it is not needed or wanted, while everything else still runs at full power
Anti-Bacterial
Pre-Filter
May we also suggest the
Intelli-Pro™ Air Purifier
The Synergy of Multiple Technologies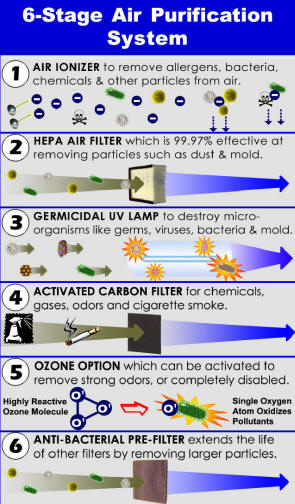 SPECIFICATIONS
Air Ionizer
Negative Ion Output: 12,000,000/cm3 (high density)
Negative Ionizer: Needlepoint ionization
Material: Stainless steel needle points
Air Filter
3-stage combination filter cartridge: Consists of HEPA, activated carbon, and antibacterial pre-filters
HEPA Filter Efficiency: 99.97% at 0.3 microns
Replacement Frequency: 1-2 years
Air filter cartridge size: 11.25" x 5.25" x 4"
Germicidal UV Lamp
UV Wavelength: UV-C, the short germicidal range of the UV wavelength
Nanometer Frequency: 254nm
Ozone Production: < 0.008ppm
A replacement kit with filter and UV lamp for the XJ-3000C is available at just above our cost to customers who purchase the XJ-3000C from us.

Filters and UV lamps may also be purchased individually by customers who purchase the XJ-3000C from us.
Kit, if ordered with an XJ-3000C: $40
Kit, if ordered separately: $49
UV lamp only: $20
Filter only: $39
Replacement is suggested every one to two years for the filter and 3 years for the UV lamp, depending on pollution levels. The life of the filter may sometimes be extended a little by vacuuming the dust off the exposed pre-filter.
Ozone Generator Kills Odors
Output Settings: Off, Low, Med, High
Off Setting: Ozone Completely Disabled
Ozone Output: 50 mg/hr (high setting)
Fan
The quietest fan we've seen.
Speed Settings: High, Med, Low
Air movement: 71 CFM (high setting)
Coverage Area
Normal Conditions: 500 sq. ft.
Heavy Pollution: 250 sq. ft.
Pushbutton Controls on top
4 Timer settings: 1, 2, & 4 hours, and always on
Ozone/Sanitizer: Off, Low, Med, High
Power: On/Off
Fan Speed: Low, Medium, High
Enclosure
Environmentally-safe ABS plastic
Dimensions: 15" (W), 13" (H), 7.75" (D)
Weight: 10 lbs.
Cord Length: 72"
Electrical & Power
Power Consumption: only 40 watts
Runs on ordinary 120 volts AC, 60Hz house current